We are delighted to be involved in this very special Coronation Event happening in the village in May. The day will be a family event to celebrate the coronation of King Charles III.
Join your fellow parishioners in Creech St Michael Recreation Park where you can enjoy:
The coronation screened live on a big screen
Free cream tea/cakes and hot drinks*
Family-friendly activities
Competitions
Please bring along your own picnic lunches and we will provide the cake and cream teas later in the afternoon. If you don't fancy bringing your own picnic, there will be a burger van and hot drinks van on site too.
Bring your own picnic blankets, chairs etc and don't forget your travel mugs for your tea so we can be kind to the environment.
Please make sure you mark yourself as attending on The Coronation Facebook Event page so you don't miss any important messages about the event.
Timings
The park will be open as usual around these times, but organisers will be setting up/down.
 CORONATION TV COVERAGE LIVE ON BIG SCREEN
1020 – The King's Procession
1100 – Coronation Service at Westminster Abbey
1300 (approx.) National Anthem
1300 – The Coronation Procession
1330 – Ceremonial Flypast/Royals on Balcony
ACTIVITY/COMPETITION TIMETABLE
1000:  Event officially starts
1000-1200:  Archery
1030:  Children's Crown Parade
1200:  Last chance to enter your cake into the Bake-Off
1230: Magic Show
1300: Circus Skills
1300-1500:  Cream teas served (to ticket holders only)
1300-1400: Archery
1400: Bake-Off winners announced/prizes given
1400: Magic Show
1430: Tug of War
1500: Circus Skills
1530: Egg Toss
1600: Event finishes
AVAILABLE ALL DAY
Throw the Welly
Coconut Shy
Inflatables (weather permitting)
Face Painting
Food & Drink
* Although the cream tea is free, tickets must have been reserved before the event and we are now at full capacity
Activities
Face Painting
Inflatables (subject to weather)*
Family Games – eg Egg Toss, Tug of War
Magic Shows
Circus Skills
Coconut Shy
Welly Toss
* Fee applicable
Competitions
We are pleased that both Ruishton and Creech schools are getting involved by making bunting and crowns.  We are also very excited that the Creech Bake-Off is making a comeback!  Having been a huge success at previous Party in the Park events we are holding a bake-off with a Coronation/Royal theme.  The bake-off will be for everyone of any age.
Kid's 'Make a Crown' Competition
We invite all children to get crafty and make a crown to wear on the day.  Please wear your crowns on the day to receive a small prize and come to the main arena at 10.30 to take part in a parade.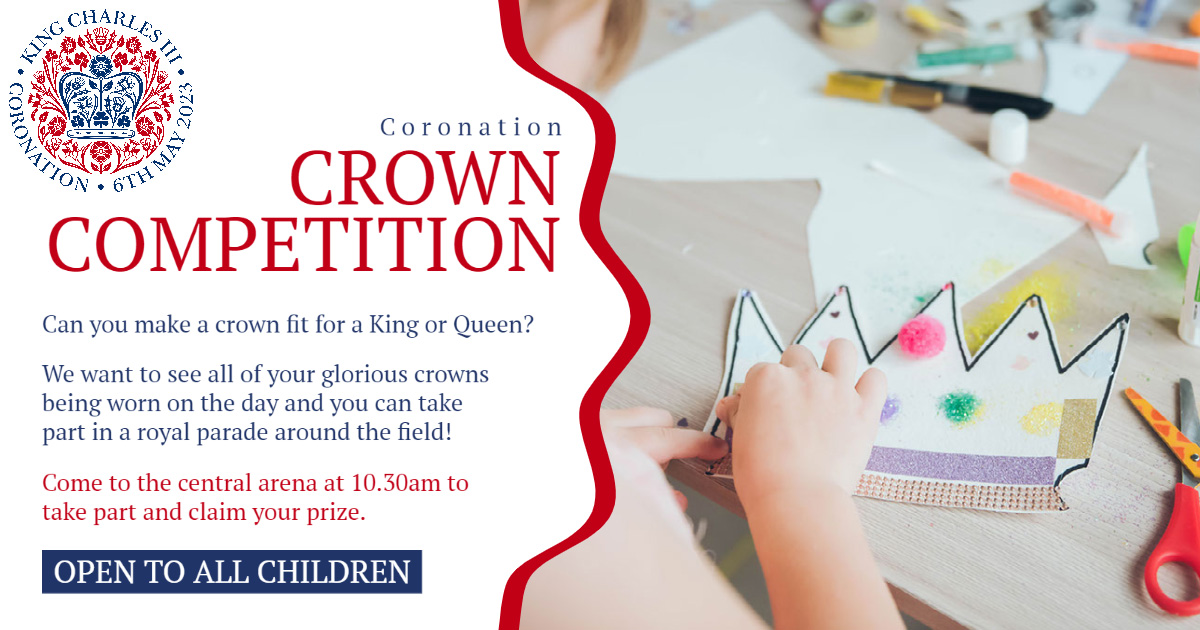 'Creech Bake-Off' Coronation Cake Competition
Open to everyone.  We want to be wowed by your creations with a Coronation theme. Deliver your cakes to the Bake-Off tent and fill in an entry slip before the midday cut-off time. There will be a winner and two runner-ups for each of the three categories (Adults/Teens/Children). Winners announced and prize giving will happen in the Bake-Off tent at 1330.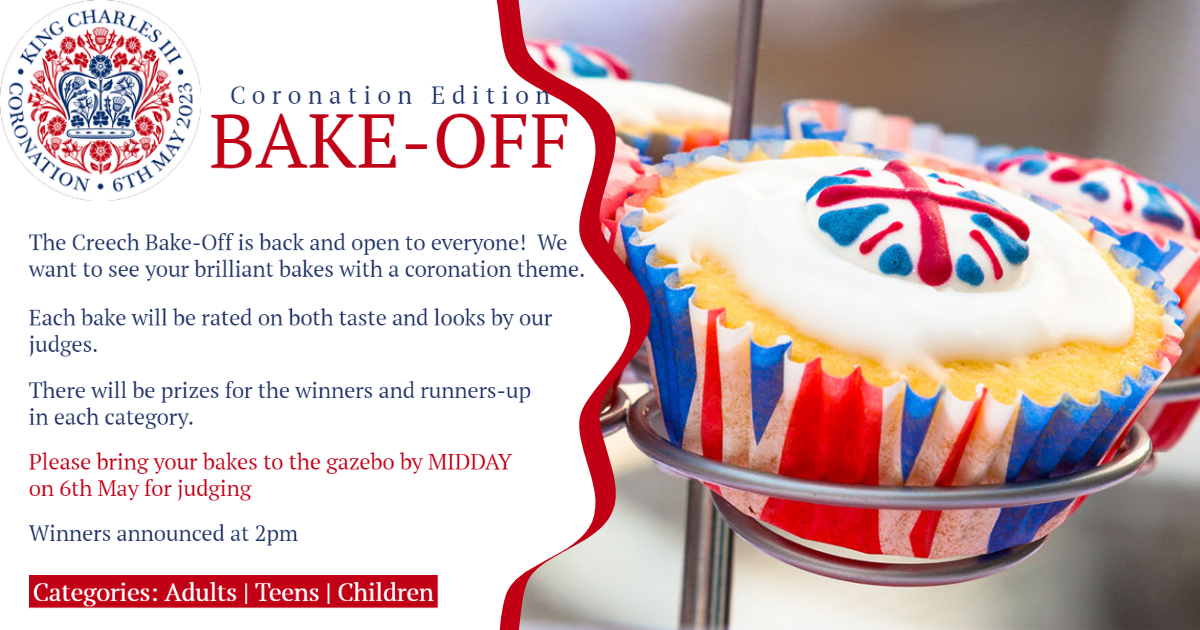 Tug of war
Get your teams together for a fun Tug of War championship!  We need eight teams of eight to take part.  Sign up on the sheet in the Bake-Off tent. 2.30pm in the main arena.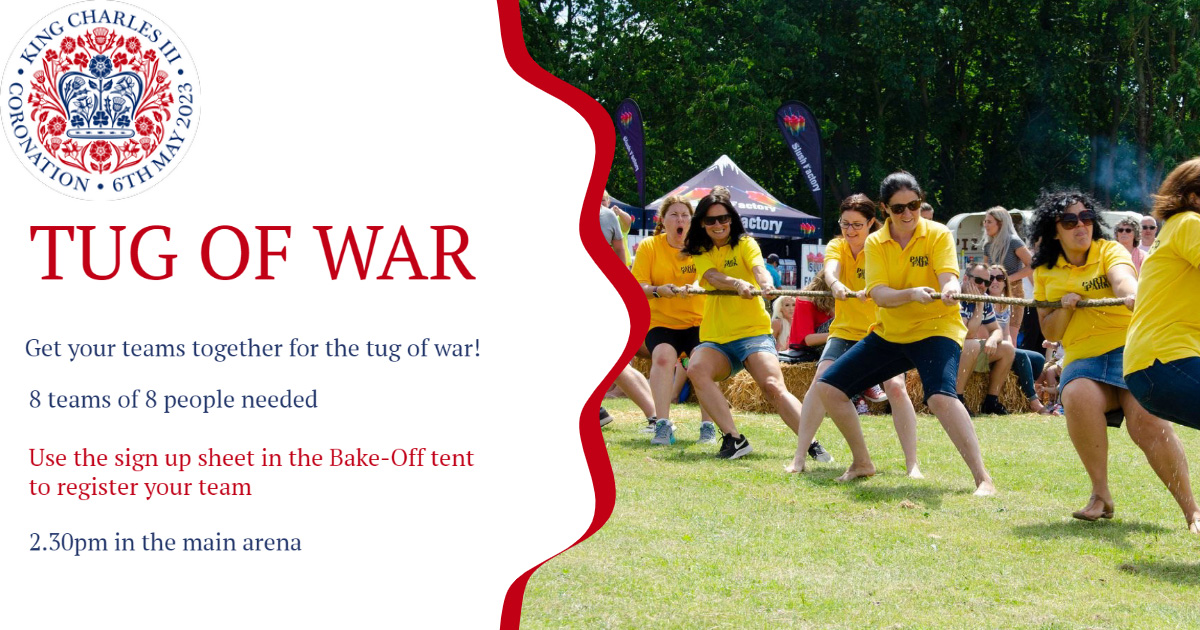 Tickets
The park, big screen, competitions and family games are all free for our parishioners to enjoy, however, you will need a ticket to redeem for your cream tea or cake. This is so we can cater accordingly and tickets will be limited.
All tickets for the free cream tea have now been allocated.
Parking
The only parking on-site will be for blue badge holders.  Please come to the event on foot if possible.
The Organisers
This event is a joint venture to bring the local community together for a memorable coronation and is organised and supported by: