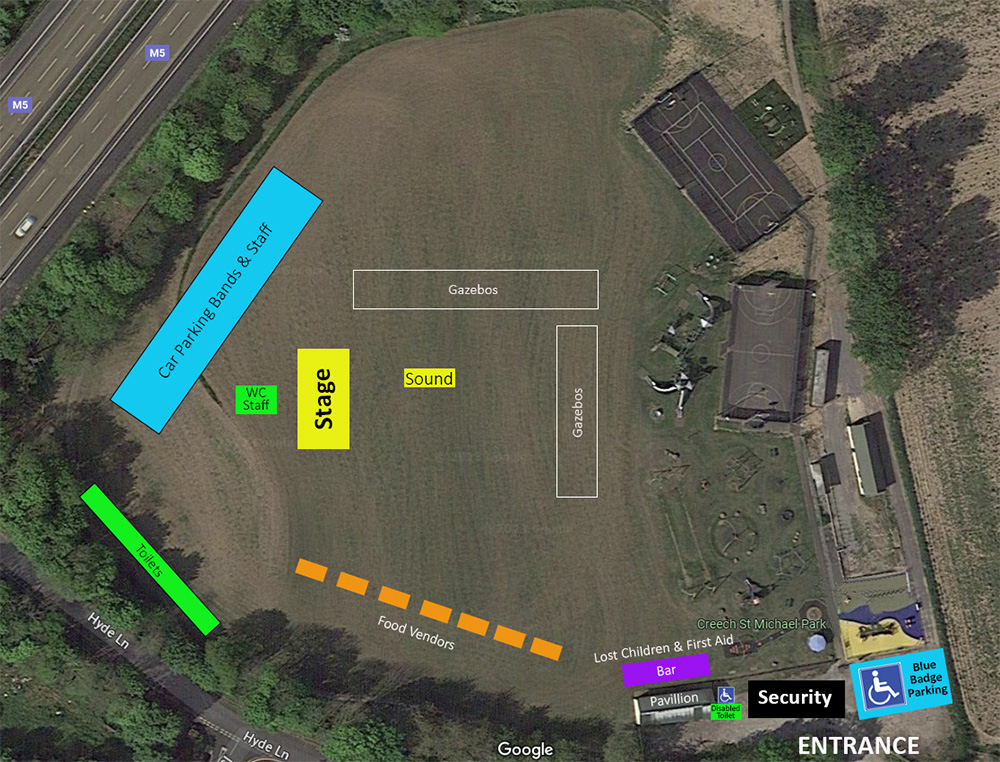 We are excited that 2023's Creech Party in the Park is nearly here.  Everything you need to know can be found in this article, but if you have any questions at all please contact us on info@creechpartyinthepark.com or message us via Facebook.
Timings
1600 – Park closed to the public
1700 – Gates open
1700 – Bar opens
1800 – The Jamestown Brothers live on stage
2000 – The Jukeboxers live on stage
2100 – Latest admission
2200 – Voodoo Seven live on stage
2330 – Last orders at the bar
2345 – Event closes
Tickets and Entry
Please have your tickets, ID and bags ready before you reach the front of the queue so that we can get everyone in ASAP.
Have your tickets ready on your phone or printed out ready to be scanned at the gate.
Once scanned the tickets are void and can not be reused.
If you look under 25 have your ID ready at the gate
Have bags open for security searches
Alcohol or drugs will be confiscated
Family ticket holders must arrive together
Unaccompanied under 18s will NOT be admitted
Wristbands must be worn at all times
Tickets can be purchased online until 2030 on the 15th July (subject to availability)
Tickets can be purchased, with cash only, at the gate (subject to availability)
Lastest admission – 2100
Children
Under 18s are the responsibility of their parent or guardian at all times. Please ensure their wristbands have your contact phone number written clearly on them.
Food & Drink
Party in the Park costs over £20,000 to put on. We rely on ticket sales,  bar sales and food vendors for funding. Without this the event would not happen. This is why we ask everyone to only buy their drinks from the bar and use the food vendors, and not bring their own. 
Please do not bring alcohol. It is a condition of our licence that only alcohol purchased from the bar may be consumed on-site and our professional security team will enforce this.
Our reasonably priced bar will stock a range of canned and draft lagers, beers, ciders and spirits, in addition to soft drinks and non-alcohol options. There is something for everyone.  We always keep our bar prices reasonable and will publish the bar list on social media before the event.
Challenge 25. Have your ID ready at the bar if you look under 25.
Cash Only Bar. We will only take cash at the bar.  It would really help us if you bring small notes and change!
Please do not bring food. There will be numerous food options on-site including burgers, nachos, fries, noodles, pasties, crisps, ice creams, and doughnuts.
Food is supplied by external caterers. It will be at the vendors' discretion if they cater for restricted diets such as gluten-free or vegan.
Parking
No public parking is available onsite.   Please leave your car at home. We have limited parking spaces for blue badge holders only on a first come first served basis.  We encourage everyone to come on foot, but if you do drive, please park respectfully on public roads in the village. Please remember that Creech St Michael village is a 20mph zone.
Seating
No seating is provided. Bring your own picnic chairs.  Gazebos are also permitted, but please site these around the edge of the stage area so you don't block anyone's view or inadvertently end up in the dance area in front of the stage!
Gazebos
You are welcome to bring gazebos with you for shelter in the evening.
Gazebos must not be left unattended, and you bring them entirely at your own risk.
Please site your gazebo at the back and right side of the field (see image).
Due to the windy forecast, gazebos MUST be anchored securely.
Gazebos CAN NOT be left on the field overnight. Due to the strong wind forecast, we can not risk unattended gazebos blowing away.
Please do not block any other party goers view of the stage with your gazebo
Please do not position yourself too far forward – as you will end up on the dance floor!
Photography
Our volunteer photographers will be taking lots of pictures and video during the event to use in future publicity.  Please let them know if you don't wish your photo to be taken. If you want any pics on social media removed after the event, please contact us and we will of course remove them straight away.
Tag Us!
We would love to see your pictures of the event – please tag us on Facebook or Instagram using the hashtags #creechpartyinthepark or  #csmpip23
Have Fun!
Party in the Park is run by volunteers as a family friendly event for the benefit of our community. We hope you all enjoy a super night of music, dancing and making memories!
*All timings are approximate